Jolly LLB 2 movie review, box office collection, story, trailer, music, songs, Akshay Kumar, Huma Qureshi, Arshad Warsi
Source: Akshay Kumar/Facebook
Our wait to watch an Akshay Kumar film is finally coming to an end. I mean, usually we get to see Akshay treating us happy on Republic Days but blame it on the much celebrated clash between Shah Rukh Khan's Raees and Hrithik Roshan's Kaabil this year, we were made to wait a little longer. But like they say, better late than never? AK's first 2017 release Jolly LLB 2 is all set to hit the screens tomorrow. While it's known for a fact Jolly LLB 2 is a sequel to Arshad Warsi's Jolly LLB(2013) which was not only a surprise hit of the year but also a National Award winner. It's left to see how will Akshay take forward this legacy. Here, take a quick gist of what Jolly LLB 2 is all about, before you head to watch the film…
Directed by Subhash Kapoor, Jolly LLB 2 is a political satire where Akshay plays a lawyer who is corrupt and is only looking for ways to make quick money. However, eventually he tumbles upon a case that threatens his mere existence and that's where the story begins. Will he stand up for justice or will he bow down to the many bullies who are ready to pull the trigger the minute he decides to set out for justice? We'll get our answers in the theaters tomorrow!
There have been two trailers of Jolly LLB 2 – one which gave an overall idea of what the film is about including Akshay's comic timing with a punch line even mentioning Salman Khan's marriage. But the second trailer is what revealed it all – The various court cases, the number of judges in the country and how people solve their matter. What I liked about its previous trailer was the perfect blend it had of goofiness and hard-hitting cinema; while the second one takes the subject way too seriously. Hope the movie is less of what we see in the second trailer and more of the first trailer because as the song goes, 'for he's Jolly good fellow'…right?
While most of the posters of Jolly LLB 2 have featured Akshay as the lawyer. There are also a few which show the beautiful chemistry between Akshay and his ladylove Huma Qureshi. Not to mention, Akshay and Huma share a lovely chemistry which actually frames a lovely background to this political satire. Here check it out below: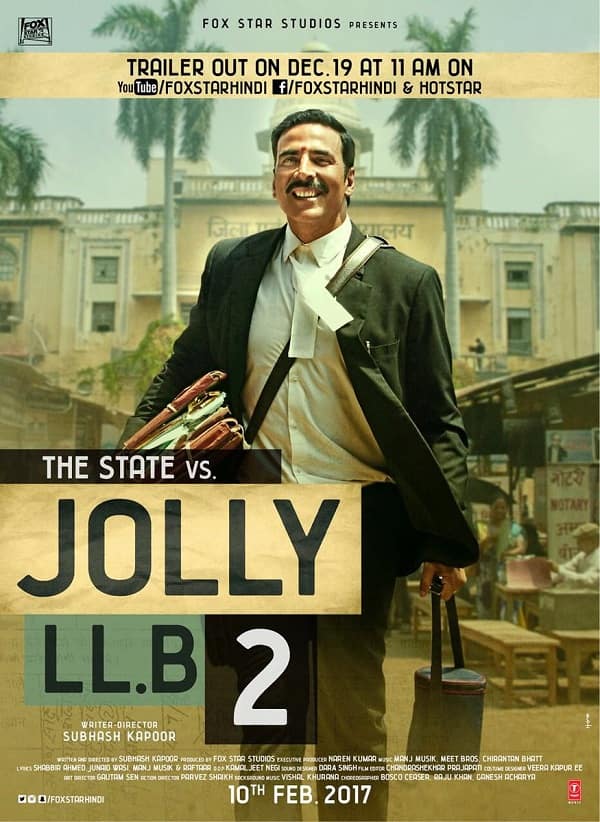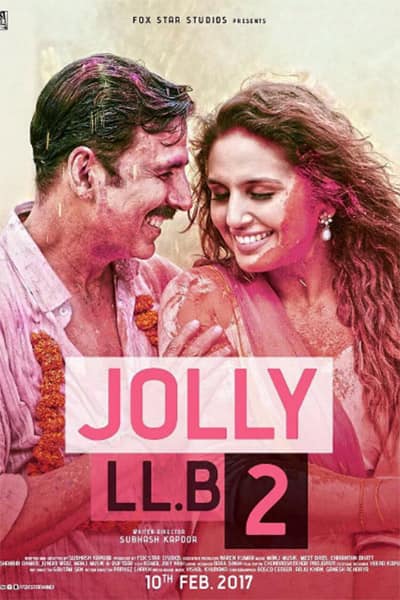 We spoke to famous trade analyst Akshaye Rathi to get an idea of Jolly LLB 2's number game and he said, "Jolly LLB 2 has a pretty solid buzz and I won't be surprised if it has a rocking opening. Honestly, unless the film turns out to be very bad, which is unlikely going by the promos, Jolly LLB 2 will be a sure shot Rs 100 crore film. It looks very good and the buzz around it is also high. People are even excited, so it is all looking good for the movie. I think on day 1, Jolly LLB 2 will make a bare minimum of Rs 13-14 crore. Could be Rs 15 crore too. And over the weekend, if it does carry a good word of mouth publicity as the promos indicate, I won't be surprised to see it earn Rs 45-50 crore. Considering that it is a non-holiday release, these figures are really very good."
The music album of Jolly LLB 2 consists of just four songs namely – Go Pagal, Bawara Mann, Jolly Good Fellow, O Re Rangreza (Qawaali). It's been composed by multiple composers including Meet Bros, Vishal Khurana, Manj Musik and Chirrantan Bhatt; while the lyrics have been penned by Manj Musik, Raftaar, Junaid Wasi and Shabbir Ahmed. Overall, the album of Jolly LLB 2 is a mixed bag with two brilliant songs – Bawara Mann and O Re Rangreza.
The first few reasons for watching this film has got to be Akshay Kumar. This man has figured out how to keep up the good work with every film of his. He has managed to crack the code to do films that matter. Where his contemporaries are doing the same thing, he has moved on to interesting cinema which is realistic yet entertaining. So, Akshay could be all the reason you need to check this film out.
Article Source: BollywoodLife.com